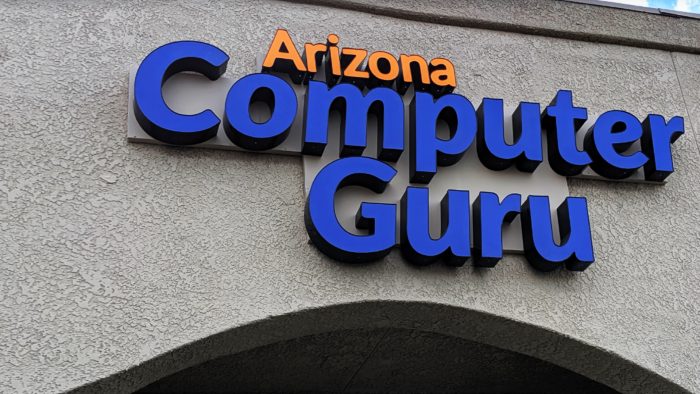 If you have a broken or damaged laptop, or even just a laptop that needs a cleanup, bring it to Arizona Computer Guru. We have been servicing laptops in Tucson, Arizona for more than 20 years, and we've seen just about every type of laptop issue there is. From screen replacements and DC jack repair to hard drive and ram upgrades, battery or keyboard replacements, we do it all. Mac, PC, Chromebook or Linux, we service all laptop computers. If you don't know what's wrong with your laptop, bring it to Arizona Computer Guru and our expert technicians will diagnose your issue accurately the first time. This translates to big savings for you over other repair shops who frequently fail to correctly diagnose issues and thus perform incorrect repairs, leaving you with less money and more problems. Arizona Computer Guru's expert diagnosis is just the first of many reasons you should bring your laptop to us – and you don't have to take our word for it. We stand by our many 5-star reviews from satisfied customers as testament to our abilities.
Tucson's Laptop Repair Experts
Over the 20+ years we've served the Tucson community, Arizona Computer Guru has performed repairs on many thousands of laptops, covering virtually all issues which can exist for these types of computers. Our technicians have decades of combined experience in repairing and resolving laptop errors as well as hardware failures – we check for issues unique to laptops when resolving OS or software issues as opposed to just using the first solution on Google, as many shops tend to do. When you bring your laptop to Arizona Computer Guru for repair, you can rest assured that Tucson's laptop repair experts are resolving your issues.

Contact Arizona Computer Guru for laptop repair
If you have a laptop which needs repair, we encourage you to give us a call at 520.304.8300 or bring it to one of our two locations in Tucson. We'll go over the process with you in person as well as answer any questions you may have. Be sure to drop by our Deals & Discounts section before you come in, to snag any deals which might apply to your repair.